Welcome to the Red Steel Wiki
Red Steel is a FPS series developed by Ubisoft Paris and designed exclusively for the Nintendo Wii. The games have a combination of sword fighting and shooting gameplay.
Featured Article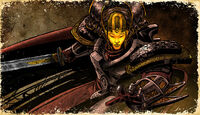 Okaji is a samurai who appears in Red Steel 2. He is the leader of the dreaded Katakara Clan and is hired by Shinjiro to assassinate The Hero. According to Judd, Okaji has a bounty placed on him in over 38 different territories.
Featured Video
Featured Poll
Do you think there will be a Red Steel 3?
Blogs
Create blog post
News
In order to hopefully jump start this Wiki and get more people interested in it, the Wikia Content Team has decided to freshen up the main page and the skin. We have also been working hard to create content.

Read more >
See more >
Featured Media
Ad blocker interference detected!
Wikia is a free-to-use site that makes money from advertising. We have a modified experience for viewers using ad blockers

Wikia is not accessible if you've made further modifications. Remove the custom ad blocker rule(s) and the page will load as expected.